You've submitted changes for this coffeeshop - these are awaiting review.
About coffeeshop Zero Zero Arnhem
Coffeeshop 'Zero Zero' is located on the Hommelseweg in Arnhem (near Arnhem Velperpoort station).
Unfortunately we still have little information about this coffeeshop. Leave a review!
Front view of this coffeeshop: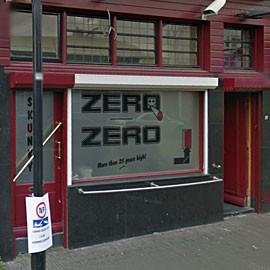 Monday 10:00 - 22:00
Tuesday 10:00 - 22:00
Wednesday 10:00 - 22:00
Thursday 10:00 - 22:00
Friday 10:00 - 22:00
Saturday 10:00 - 22:00
Sunday 10:00 - 22:00
translate reviews to EN
Gezellige coffeeshop met huiskamer sfeer. Goede wiet en hasj. Werken met stempelkaarten. Altijd lekkers op de tafels. Personeel heeft het certificaat bekwaam cannabis verkoper behaald.
niet super gezellig ingericht. Wel gezellige mensen daar !! De prijs kwaliteit verhouding is top!!
Iemand is er geweest en nam Space en Strawberry voor me mee. Helaas was die laatste helemaal niet goed gedroogd! De smaak is lekker maar het effect was een high van 10 min en daarna vrijwel weg. Hadden we allebei. Weet niet of het misschien meer op cbd gericht is maar ook de tweede keer niet echt high, alleen maar lichamelijke ontspanning. De Space daarentegen was wel echt superchill met echt een goed effect en was echt wel ff in mijn eigen wereldje. Daarna dikke couchlock. Binnenkort zelf ff kijken wat ze hebben maar slecht gedroogd vind ik niet zo tof. Van tevoren al verpakt.
Load more (3)
Write a review